Secomea remote modem solution commits to offering the most complete, scalable and cost effective solution in the market, through a unique blend of ease of use, advanced features and state-of-art-security.
The Secomea Solution – Creatively combining and utilizing existing networking technologies
REMOTE PROGRAMMING – Secure and easy remote programming for your machine, PLC and HMI
REMOTE CONTROL -Secure and easy remote control and viewing of industrial equipment
REMOTE DATA LOGGING – Secure remote data logging and monitoring of industrial equipment
REMOTE INFRASTRUCTURE – Secure and easy infrastructure for machines, factories and offices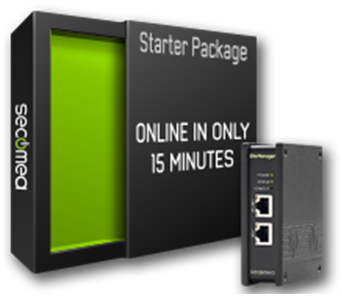 Ask about our current Starter Packs

Secomea A/S is a privately owned company and one of the leading providers of remote access solutions for the automation and machine industry. Over the years, Secomea has built a strong line of Firewall/VPN and Industrial Communications Solutions with a unique emphasis on making the solutions easy to install, setup and use. This is implied in the company name that is an abbreviation of: Secure Communication Made Easy.
Secomea are driven by a spirit of innovation, which we define as the ability to be constantly inquisitive and curious – not only about discovering new technologies but, even more importantly, about finding effective new ways to adapt and refine existing technologies.
Secomea have dedicated themselves to perfecting Internet based industrial communication solutions that help you monitor, manage, and service equipment no matter where it is located – across town or around the world. Solutions that give you the ability to reduce costs, improve customer satisfaction and boost revenues by meeting the demands for increased uptime.
Highly Secure, Easy to Use
Security is our No. 1 priority: to ensure the safety of data, applications and the network, each Secomea  product is designed to meet the strictest corporate security requirements. Equally important, our  solutions – while technologically sophisticated – are highly practical tools, rapidly implemented and remarkably easy to use in day-to-day operations.
Serving the Entire Value Chain
Especially our Industry communication solutions are optimised to provide effective and secure data communication for a wide range of customers – from parts suppliers and machine builders to system integrators, service providers, and end users. While our initial strategic focus will be upon parts suppliers, machine builders and system integrators, Secomea provides total industry solutions that serve the business needs of customers all along the value chain.
Designing Our Solutions
Our solutions are developed for and sold to global market leaders and their customers worldwide. Specifically, Secomea offers:
Design and development of secure connection solutions using state-of-the-art technology and open security standards.
Integration and embedding of technology in our partners' products and systems.
Consulting with manufacturers, system integrators and service providers about market needs, technology and strategies
Secomea Mission and Vision
Secomea mission is to make secure communication easy.
Our vision is to be a world-wide market leader within secure M2M communication.
By focusing on the secure network communication market, we have clearly defined our future direction. Secomea will work closely with our technology partners and customers – and, when appropriate, with their customers – to provide the best available Industrial Communication solutions and Office Network Security solutions. Solutions that are reliable, secure and easy to deploy, as well as highly scalable and adaptable to future needs.
Product Families
SiteManager. 
LinkManager
GateManager
TrustGate
M2M Connectivity – Secomea Secure Remote Access 
Secomea provide complete solutions for the industrial automation industry for secure and easy remote access to PLCs, HMIs and other automation equipment.
Secomea – Secure Communication Made Easy for the M2M world.

Using secure web protocols for encryption and authentication, the Secomea solution accesses the web via standard TCP ports, so does not require any modifications to firewalls or network access rules. Further, by initiating the connection from the destination end, firewall stateful inspection rules are not invoked.
What Makes the Secomea Solution different to VPN, RDP, pcAnywhere or other hardware solutions?
The solution is literally plug and play, everything is configured prior to delivery. Changes? Easily done remotely.
Secomea provides access directly to network hosts – PLC, HMIs, Drives etc as though you were directly connected. Access is granted on a granular 'per device' basis for the highest security.
No local PC with development licences is required, (though this approach remains an option)
The unique GateManager™ cloud service connects users and devices from across the world, taking care of all IP address and DNS issues.
No need for a costly Static 3G IP addresses – save $ hundreds each year.
Security is assured by AES/SSL encryption, as well as by the GateManager configuration – you nominate the authorised user and device combinations.
Inbuilt filtering ensures that only authorised protocols can be used. If a connection is configured to a particular model and type of PLC, traffic not suiting that type of device is rejected.
Remote access ports includes RJ45 ethernet, USB and DB9 serially connected remote devices.
In a word, Secomea have made secure remote access EASY.
Setup time out of the box? You will do it within 15 minutes.
Note: In Australia and New Zealand, the Secomea GateManager service attracts a small annual service charge.
Who uses Secomea for secure M2M remote access?
Service Technicians
Commissioning Engineers
Maintenance Electricians
Travelling technicians (who wish to reduce their travel!)
Anybody requiring remote and direct access to PLCs, HMIs and other network connected devices, and without the need to do so through a site PC. The Secomea solution allows direct access to the unit as though you were connected directly to the network.
3 Components to build Secure Remote Access
The Secomea solution is built from SiteManager – the site hardware, GateManager – the central authenticator, and LinkManager – a client application.
1. SiteManager
A DIN rail mountable hardware Secomea 'SiteManager' unit is placed at the factory, and connects your equipment securely to the Internet.
No need for additional open firewall ports, SiteManager uses commonly available port 80 (http)
No need for fixed IP addresses, DynDNS or other 3rd party components
No need for involving the IT department
No need for local configuration
All models feature ethernet uplink, device serial ports, Digital IO and EasyTunnel™ VPN.
Site personnel retain the ability to physically disconnect the unit to dictate when access is provided.
The concise range of SiteManager models allows you to choose between 1 or 4 device ports, USB uplink port for external modem, 4G/3G/GPRS modem and the number of site devices to which access is required. Refer to the SiteManager Selection Guide for detailed information.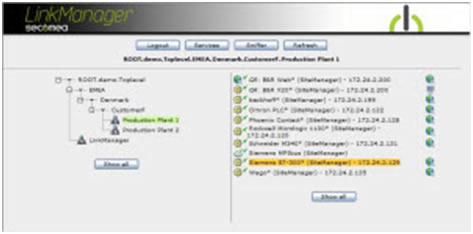 2. LinkManager
A Windows software client is run on your PC, and this connects you directly to the equipment at the factory via the cloud gateway.
No configuration needed – LinkManager is really
No conflicts with other communication clients
Supports both 32 and 64 bit Windows
Uses customisable tree structure to display all global devices to which authorised access has been granted.
Select a connection to the desired site device, then your programming software (Step7, RSLogix, UnityPro, etc) will now see the equipment as if it were locally connected.
Now Available – LinkManager Mobile for smartphones and tablets.
What makes this connection so secure yet so simple?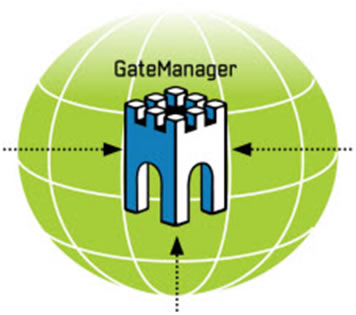 3. GateManager
A central data exchange server, hosted by Daanet, Secomea or the Customer, links end-to-end encrypted tunnels between an internet connected user and the remote machine or network. Here is where all LinkManager accounts and equipment are controlled and organised by an administrator.
Automatic configuration backup Secomea GateManager from Daanet
Logging of all access
Email/SMS alerts
Bulk firmware upgrade
Create unlimited LinkManager accounts
Remotely accessed web GUI of all SiteManagers and LinkManagers
The end-to-end connection ensures no eaves-dropping on your data is possible
Complete user account control – when staff leave their access is simply deactivated by the Administrator.
For more information, see our Secomea Getting Started Guide to understand exactly how you will be securely connected in just 15 minutes, the Secomea FAQ list, or the SiteManager Selection Guide.
The Secomea solution is unique in the world of M2M communications, providing two-factor security for complete control over site access directly to the PLC, HMI or other network hosts.
Not just another VPN, Secomea provides easy to use granular remote access with the highest confidence.
No products were found matching your selection.